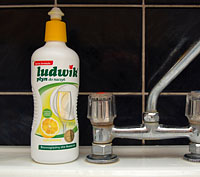 I've worn eyeglasses since I was 3 years old. A few years ago, I started getting annoyed with the dust and grease that keep building up on my glasses. Maybe it's old-age grumpiness kicking in, or maybe it's because I started to use LCD displays whose immaculate picture quality sensitized me to any blurriness between the LCD matrix and my retina.
Anyway, I started cleaning my glasses regularly. The problem was that I couldn't figure out a good cleaning technique. First, I tried washing my glasses with running water and then drying them up with towels. That didn't work so well for the grease and the towels (either cloth or paper) would leave tons of lint on my glasses. So I bought a professional microfiber cloth, the same kind that I use for cleaning photographic lenses, and some isopropyl alcohol (isopropanol), the stuff that they put in those overpriced "lens cleaning kits" you'll find in the photography section of your electronics store. That was a lot better than my previous technique, but the alcohol would not clean off all the grease, which was impossible to remove completely with the cloth.
Well, I've finally figured it out. (Actually, I wish I had. I learned about this technique from my optician.) The answer is dishwashing liquid (AKA dish soap).
Rinse your glasses under running water.
Put a bit of dishwashing liquid on one of the lenses, then use your fingers to gently rub the liquid on both sides of both lenses.
Rinse glasses again to remove the dish soap. You don't need to use your fingers to get the dish soap off – just use running water. You should be looking at perfectly clean lenses with a few drops of water on them. If there's any grease or other spots, repeat steps 2 and 3.

Use a microfiber cloth to gently clean off remaining water drops. Use light touches – there might be small pieces of dirt on the cloth and if you rub it too hard, they might scratch the lenses. The microfiber cloth leaves no fluff, so your glasses should be perfectly clean.
It's really a perfect combination. The dish soap dissolves all the grease, so you don't get any smudges when you use the microfiber cloth. The microfiber cloth removes the remaining water drops and (non-greasy) stains made by evaporating water, and leaves no lint. The result: pristine-looking glasses in one minute.
What's more, this technique is fairly convenient to use. Many online how-tos recommend special eyeglass-cleaning sprays or vinegar, which may be expensive or unavailable. On the other hand, most people have dish soap in their kitchen, so the only special accessory you need is a microfiber cloth, which costs $7 (for a top-quality one) and can be re-used for years. And even that isn't really necessary, as paper towels or tissues work almost as well.