One thing that struck me soon after I upgraded my main computer from Windows XP to Windows 7 is how many things it gets almost right. The OS is full of well-engineered features that seem awesome, yet – upon closer inspection – turn out to have some hidden flaw that renders them useless or at least very frustrating.
Math Input Panel
I'll start with the Math Input Panel. This is a feature so awesome that you want to show it to your friends. You scribble a mathematical expression with your mouse, touch screen or graphics tablet, and it is magically converted into proper typographical form.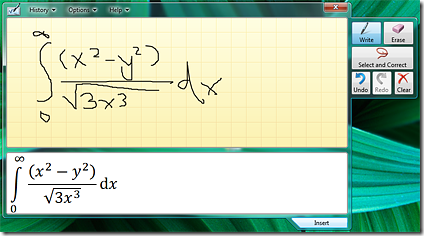 But then you want to insert your formula into a document. You open the built-in (and greatly improved) Write editor of Windows 7. You click "Insert". Nothing happens. You open Paint (also improved in Windows 7) and try again. Nothing. OpenOffice Writer? Nothing. Word 2003? Nada. Does this thing even work?
Then you read the small print. The Math Input Panel only works with applications that support MathML. As of this writing, the only popular application with MathML support would be Word 2007. There are no other output options. The Math Input Panel cannot generate code in LaTeX, which is the de facto standard in the mathematical community and has been adopted by projects such as Wikipedia, WordPress and jsMath. It cannot generate OLE objects for older versions of Word. It does not even let you paste the damn equation as an image. How can something so ingenious be so useless?
Windows Firewall
On its face, the Windows Firewall has everything you need to say goodbye to third-party firewalls like Comodo. It's lean, well-integrated with the OS, and the new "Windows Firewall with Advanced Security" console lets you specify detailed rules for inbound and outbound connections to/from specific programs and ports: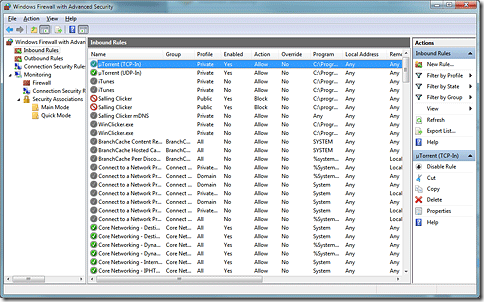 Perfect, isn't it? Unfortunately, it has two fatal shortcomings:
Any application can add its own exceptions to it by means of a simple API call. Why? The official rationale is that it is not the firewall's job to block malicious applications from accessing the network – once you have executed malicious code on your computer, it can pretty much do whatever it wants, including sending data via a trusted process in a way that is invisible to the firewall. There is some truth to this, but a less permissive firewall would still make things that much harder for wrongdoers. More importantly, however, this reasoning misses the use case where you want to prevent legitimate applications from "phoning home". If I block Adobe Photoshop from using my Internet connection, it probably won't go so far as to hijack another process, but it will make use of an official Windows API to add an outbound rule for itself.
There is no way to get pop-up notifications about outbound connections. In a typical software firewall, when a new application attempts to establish an outbound connection, you get a pop-up window which enables you to allow or block the connection, and add a permanent rule for this application. The Windows Firewall does not have this functionality. The only thing you can enable is a notification about blocked incoming connections, which gives you a chance to unblock an application. What about outbound connections? The best you can do is block all unknown applications, but then you will never know that an application wanted to access the Net. It will just silently fail.
Sticky Notes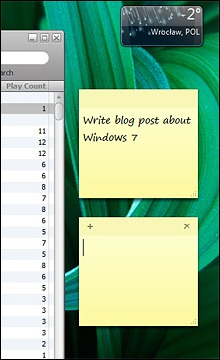 The Sticky Notes feature looks really useful at first. For someone who stares at his screen for most of the day, the Windows desktop seems to be a logical place for "notes to self". The UI is pretty straightforward and has some nice touches, such as the fact that every note has a little plus button that lets you quickly add another note.
Unfortunately, for some unknown reason Sticky Notes is not a gadget, like the weather thingy you can see on the screenshot above. It's a separate application. One that cannot be minimized to the system tray. And I don't know about you, but I don't like tiny utilities like this taking up space on my taskbar. I need the space so I can comfortably switch between my productivity applications.
Windows Backup
The final "almost perfect" Windows 7 feature I'm going to talk about is Windows Backup. Now this is a seriously exciting utility that promises to replace third-party backup applications like Acronis True Image. On the face of it, it has everything you need. Scheduled and on-demand backups? Check. System drive snapshots? Check. Backups of selected folders? Check. Incremental backups? Check. Restore from bootable CD/DVD? Check. Time needed to back up 500 GB of data to an external USB hard drive? 35 hours. That's right. Thirty-five freaking hours. (If you suspect there is something wrong with my setup, read these other reports.) Try it once and you'll never try it again.
It's as if Microsoft developed a perfectly good backup application and then decided to cripple it on purpose, just to let ISVs make a buck. I don't want to give my money to Acronis again, especially after reading their official response to a compression bug in TrueImage Home 11 ("just turn off compression"), but it seems I'm going to have to.