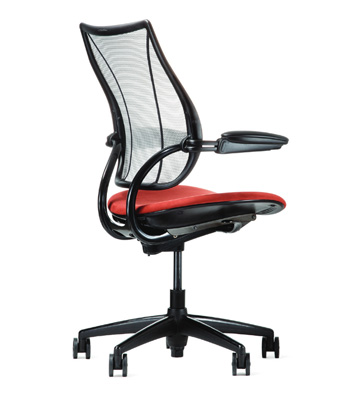 This review is part of my
series of reviews of ergonomic office chairs
. People have wildly varying opinions when it comes to chairs, and
you should always test a chair for a few days in your own work environment before buying it
. (See more advice on
how to buy a good chair
.) Don't use my reviews to decide which chair to buy; use them as a starting point for your own testing.
What does sitting in a Humanscale Liberty chair feel like? Let me put it this way. If, one day, I wake up and every chair in every waiting room in the world is a Liberty, I will know I'm in heaven. The comfort level of the backrest is off the chart. The three-part mesh adapts to the shape of your back without making you feel like you're falling in. It has the perfect amount of "give".
The backrest is mounted on a hinge located at the height of your lumbar spine. That is a beautiful, beautiful thing, to quote everybody's favorite U.S. President. When you push on the top part of the backrest, the bottom part pushes back, filling in your entire lower back, down to the sacral area. In combination with the mesh, this creates a quite unique feeling of your entire back being cradled in a uniform way. It feels a bit like floating in air. Actually, the level of support is not uniform – 60-70% of the support is in the lumbosacral area, which helps maintain a healthy lumbar curve.
In addition to the hinge, the whole backrest tilts back as you recline. This is achieved by means of a counterweight mechanism, which means there is no way to adjust the resistance – the resistance is always proportional to the weight placed on the seat.
The Liberty has a kind of default position you naturally adopt when you sit in it (see photo below). In theory, the counterweight mechanism should ensure that the standard position is the same for every user (regardless of body weight). In practice, there are slight differences due to anatomy – for example, if your upper body is 75% of your total weight, while my upper body is 70% of my total weight, you will be sitting at a larger recline angle.
The backrest is not "springy" – the resistance goes up as you recline, but not sharply. If you want to recline further, you only have to put a bit more pressure and it will stay in that reclined position. And it reclines incredibly far:
So reclining is not a problem (other than the fact that if you stay in that position for a long time, you'll kill your neck). What is a problem is sitting upright. You cannot really sit more upright than the default position. And you will probably want to, since the default position on the Liberty is quite reclined.
Let me explain what I mean by "you can't sit upright": You can use your abdominal muscles to pull your torso forward to achieve a more upright position, but the backrest won't give you enough support to maintain that position for any length of time. The other option is to push your lower back out. The backrest has a hinge, so if you push the bottom section back, the top section will tilt forward, making you more upright. Problem solved? Unfortunately, pushing your lower back out is the single most harmful thing you can do to your back while sitting. You want to maintain a healthy curve in your lower back (that's what lumbar supports are for). I fear Liberty users who want to sit more upright (for example, people who type a lot), will end up hurting their spines.
Another thing that I consider dangerous is that the hard metal edges of the backrest are positioned right behind the soft part of your elbows when you're typing. It might not be an issue if you have a wide build, but for me, the only way to avoid constantly bumping my elbows on the frame (and irritating my ulnar nerve) was to sit much further from my desk than I like to. The root of the problem is the concave shape of the backrest, with the sides sticking forward.
As I described in another post, repetitive pressure on the ulnar nerve is no joke. It can result in permanent disability. In truth, just that problem alone is enough for me to disqualify the Liberty as a chair for computer work. I'm just not prepared to take the risk. Here's a photo I made to demonstrate the issue (notice where my right elbow is resting):
In addition to being extremely comfortable (in the default position), the Liberty is an admirably cool chair. The mesh, predictably, ensures excellent airflow around your back. The real positive surprise is the gel seatpan. It conducts heat away from your bottom much better than typical foam, without compromising on comfort. To my knowledge, Humanscale is the only major ergonomic chair brand that uses gel seats. The idea offers such clear advantages that I cannot fathom why other manufacturers don't do it. Steelcase, hello? Why do you insist that my butt has to be on a material that's used for thermal insulation? Anyway, potential buyers should note that the gel seat is not a standard feature on the Liberty – you have to ask for that option.
The one knock against the Liberty's seatpan is that it doesn't tilt back when you recline (it only goes up, which is a natural side-effect of the counterweight mechanism). This goes against standard ergonomic guidelines for chairs. In combination with the slightly slippery fabric on my demo chair, it sometimes made me slide a bit forward when I reclined (depending on what pants I was wearing). If you plan on getting the Liberty, I would recommend choosing high-friction upholstery.
The armrests on the Humanscale Liberty are quite useless:
The only adjustment you can make is change the height
I found they're set too wide (48 cm) to enable me to rest my forearms while typing (they may be OK for very wide users)
They extend a bit too far – as a result, they made me sit a bit too close to my desk than I found comfortable.
They tilt together with the backrest, so if you recline beyond the "default position", they tear your hands off the desk (but they're too wide anyway, so it doesn't really matter)
In general, I preferred working with the armrests lowered out of the way.
One final thing before I move on to the wrap-up: I have seen an unusually high number of complaints on Amazon about the build quality of the Liberty – armrests falling off, that kind of thing. That sort of thing shouldn't happen on a $1000 chair, though it should also be noted that Humanscale offers a generous 15-year warranty.
The Tom Test
How does the Liberty fare on my checklist? Let's see:
Easy changing between at least two positions (near-upright and reclined): Fail, because there is no truly upright (or near-upright) position. You can be reclined or more reclined.
Open hip angle in the reclined position: Pass.
Lumbar support: Pass. The hinged backrest does wonders here.
Backrest should adapt to your back: Pass. The hinge + mesh cradles your back brilliantly.
Seatpan must not be too long: Pass.
Micromovements: Not great. You can move the backrest back and forth, but there's no springiness that would encourage micromovements.
Armrests (if you care about them): Fail. See above.
Annoyances: Hard backrest edge may hurt your elbows.
Final words
As I hinted in the introduction, the Humanscale Liberty is a fantastic chair for waiting rooms. It can be a great chair for workers who sit behind a desk, but use a computer only occasionally – in fact, I have met office workers who wouldn't give up their Liberty for the world. It can be an outstanding chair for relaxing, watching a movie on your computer, maybe playing a videogame. It's likely the most comfortable office chair you've ever sat in, and that's no small thing. Everyone should try sitting on it at least once.
However, the Liberty is just not a good chair to operate a computer from. You cannot really sit upright (= more upright than 120°) in it, and the unfortunate shape of the frame will likely pose a risk for your ulnar nerve.
Thanks to Kornak Meble in Wroclaw, Poland for letting me try out the Liberty and a few other chairs.