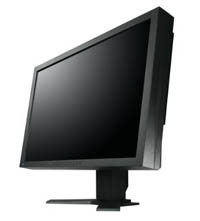 After years of using the excellent Eizo S1910 19″ display, I finally decided to look for a bigger, wider screen that would work better for watching movies and gaming while retaining the top-notch image quality of my current display. My needs are admittedly diverse: I work with text (whether I'm writing, coding or translating), I edit photographs in Photoshop and design Web pages, I watch movies, and I play games (non-competitively).
In short, I needed a display that is good for everything. On the plus side, I was ready to pay a premium price for it.
A few words on display size
Since text was so high up on my list of priorities, I decided to get a 22″ widescreen display. Anything smaller than that would obviously be too small to make a difference. How about a 24″ panel, then? Unfortunately, these babies have a serious disadvantage: their pixel size (0.27 mm) is much smaller than that of 19″ and 22″ panels (0.294 and 0.282, respectively).
In their desire to pump up the resolution, people often ignore this, but the fact is that reading text off a 24″ panel feels like reading off a 22″ panel that's 10-20 centimeters farther from your eyes. On a 19-inch screen, the area occupied by each letter is 18.5% larger than on a 24-inch screen. As I have found out, pixel size really makes a difference in terms of comfort, and, having had to return an otherwise perfectly good Eizo S2431W for this very reason, I won't be going anywhere near a 24-inch LCD.
The only other display diagonals with a decent pixel size are 26″ and 27″. The problem is that real-world LCDs of this size are not the slender, stylish ballerinas of catalogue photos. They are fat, sweaty sumo fighters that guzzle a ton of electricity and give off huge amounts of heat. I'm really not sure I want to share my modest workspace with one. So 22 inches it is.
Enter the Eizo S2231W
When the package with the Eizo S2231W arrived at my doorstep, I was quite uneasy. Having spent a great deal of time reading through relevant posts on the prad.de forum, I expected a lot of things to be wrong. Users reported a type of backlight bleed where a completely black screen displays patches of light in all four corners, forming a pattern in the shape of an incomplete X (this is called "X-lighting" on prad.de). Another frequently reported anomaly, jokingly called "Rainbow White" by prad.de users, means that large white or grey areas (such as a white page) change hue from the left to the right, appearing with a greenish or reddish tint, depending on which side of the screen you're looking at. Furthermore, I knew that large panels often have bad pixels (the S2431W I bought last year had several stuck subpixels). In short, I expected my monitor to have its flaws. I just hoped that they wouldn't be too severe.
First things first
Bad pixels

: None! Tested with LCDtest on white, red, green, blue and black. Quite a surprise.

"X-lighting"

: Definitely present, but at normal brightness settings (<60%), I needed very controlled conditions to see it: the room needed to be completely dark (maybe with a small light) and the screen had to be almost completely black. As a test, I tried watching the widest-aspect movie I could find (to make the horizontal black bars as large as possible) in a completely dark room. I could locate the bright patches if I wanted to, but when I was simply watching the film, they did not detract from the viewing experience. Big relief here.

"Rainbow White":

There was really no color shift to speak of, even with white or grey areas covering the entire screen. Perhaps Eizo have improved their manufacturing process? (My monitor was manufactured in October 2008.)

"Crystal effect" AKA "wet screen":

Most anti-glare coatings on recent LCDs exhibit a somewhat distracting sparkle effect, which is most pronounced when viewing solid-color areas. The effect changes depending on the viewing angle and looks very much like a wet screen. The Eizo S2231W is no exception, but the effect is so tiny that in normal usage I would often wonder if it was there at all. In other words, if the effect was any smaller, you'd have to say that it doesn't exist.
Gargantuan disappointment: Text looks like crap
Before I got the Eizo S2231W, I did not realize text clarity was even a meaningful category for LCDs. I mean, we're talking about a matrix of perfect, square pixels. How can an LCD, running in its native resolution over a DVI connection, possibly be blurry?
Unfortunately, the Eizo S2231W opened my eyes as to how bad text can look on an LCD. At first, I thought it was the smaller pixel size. Then, I thought my eyes were tired from using the computer for a long time. Finally, I put the monitor right next to my S1910, and I couldn't believe what I saw. The letters on the S1910 looked razor-sharp in comparison with the S2231W! What's more, I discovered that text on the S2231W has a truly insidious quality: it looks fuzzy, but it looks like your eyes are just out of focus, so you try to focus your eyes, but you never succeed. I found this extremely painful, and I simply couldn't bear reading anything off the S2231W. It's so bad I wouldn't even use this monitor as my secondary display in a dual-monitor setup. I'd rather use my 10-year-old Philips CRT.
How could this be? Here's a plausible explanation: The S2231W is equipped with a S-PVA panel. An S-PVA panel is different from the PVA panel of my S1910. In a PVA panel, each pixel is a square composed of three subpixels (red, green and blue). In an S-PVA panel, each subpixel is further divided into three parts. When a red subpixel is supposed to display a dark shade of red, on a PVA panel, the whole subpixel turns dark-red. On an S-PVA panel, the middle segment of the subpixel turns off entirely, and the remaining two segments turn a sort of darkish red.
According to Samsung, who developed this technology, this improves the viewing angles and the contrast ratio of the display. It also completely messes up ClearType. You see, when you have ClearType on (and who doesn't nowadays?), text on your screen is made not only of full-size black pixels, but also of individual red, green and blue subpixels (here is a good explanation of how ClearType works). Because subpixels are smaller than full pixels, one can add quite a bit of detail to each letter by lighting subpixels at the edges of letters.
With an S-PVA panel, this method breaks down. When ClearType tries to light a dark-red pixel at the edge of a letter, an S-PVA panel does not display a single red dot like it's supposed to — it displays two smaller dots that are a tiny distance apart. This makes the edges of letters fuzzy, causing eye fatigue.
Here's what ClearType-enhanced text looks like on the S2231W:
Notice how each dim subpixel (for example, along the left edge of the letter "p") appears as two separate dots. You can compare this photo to the photo of the Dell 2209WA (image on the right). Notice how the Dell has perfectly rectangular subpixels while the Eizo (above) has fuzzier subpixels composed of several dots.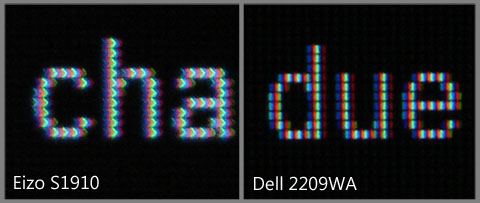 Other issues
Color reproduction:

Subjectively very good, on par with the S1910, if not better.

Wide-gamut issues:

The S2231W is a wide-gamut monitor, which means that it displays oversaturated colors in non-color-managed applications. There are two ways to fix it. The "proper" way, for those who work with images that will be printed, is to load the monitor's color profile into Windows display settings and use applications that are able to recognize this profile and reduce the saturation in a proper way for different channels. The problem is that very few applications are color-managed. Sure, Photoshop is, and you can turn on color management in Firefox, but what about movie players, games, or the Windows UI? Who wants to have screaming red icons on your desktop or unnatural skin tones in movies? A much simpler solution, if you don't care about perfect calibration, is to simply dial down the saturation setting on the monitor. A setting of -15 reduces the edge on reds while retaining nice saturation on the other channels. I spent quite a bit of time comparing photos displayed on the S2231W with decreased saturation and the S1910, and I could not see any serious color discrepancies.

Black level:

Excellent for an LCD, on par with the S1910. The S2231W produces nice contrast even in dark scenes, making it very suitable for watching movies and playing games.

Response times:

Satisfactory. Probably better than my old S1910. If you play shooters competitively, nothing beats a CRT running at 100 Hz.

Input lag:

I did not find anything troublesome.
Summary: What's it good for?
Text/office work

: EPIC FAIL. The fuzzy text will drive you nuts. You'll gouge your eyes out, you'll wish for death.

Photo viewing/editing:

Excellent.

Movie viewing/editing:

Excellent.

Gaming

: Very good.
In conclusion, I found the Eizo S2231W very disappointing. For almost double the price of other 22″ LCDs, I expected to get a monitor that would match the performance of my 4-year old S1910, which is good for text, photos, movies and gaming. Unfortunately, in 2009, the most expensive consumer 22″ LCD on the market is apparently unable to satisfy these modest demands.
I considered keeping the S2231W just for movies, games and photo work, but in the end I will not. Another Eizo is going back to the store…